Podcast: Play in new window | Download
Subscribe: Google Podcasts | Spotify | Stitcher | TuneIn | RSS
"Mom, who sang the first song?" When Ellie Holcomb's then five-year-old daughter, Emmylou, asked her this question, Ellie threw the question back at her. "Well, who do you think sang the first song?" Emmylou's answer is priceless. Yes, you have to listen to find out.
But as Ellie thought about it, she had to do some research. Her answers were put into her first children's book called Who Sang the First Song?  In this episode, we go behind the scenes of this incredible story and what it means that God created each of us with a song to sing.
Applied to the family, we talk about the "rhythms" God calls us to. With three children, ages six and under, Ellie and her husband, Drew, have some very practical ways they create rhythm for their family. This is an episode you won't want to miss.
Show Notes: 
To download Sing: Creation Songs by Ellie Holcomb, click here.
To purchase Ellie's children's book, Who Sang the First Song, click here.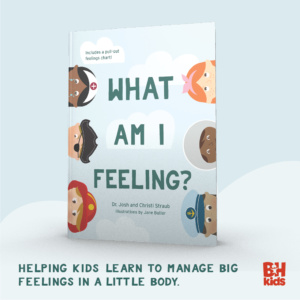 Start feeling better today by ordering What Am I Feeling? Click here to order.